Last updated on October 20th, 2023
The Illinois State Police have released a new version of the Firearm Owner Identification card, and there is already a problem. This new FOID card, released in January 2022, is a combined identification card. The ISP has merged the Concealed carry License and the Firearm Owner ID into one card. Let us take a look at the new FOID card and see if we can spot the problem.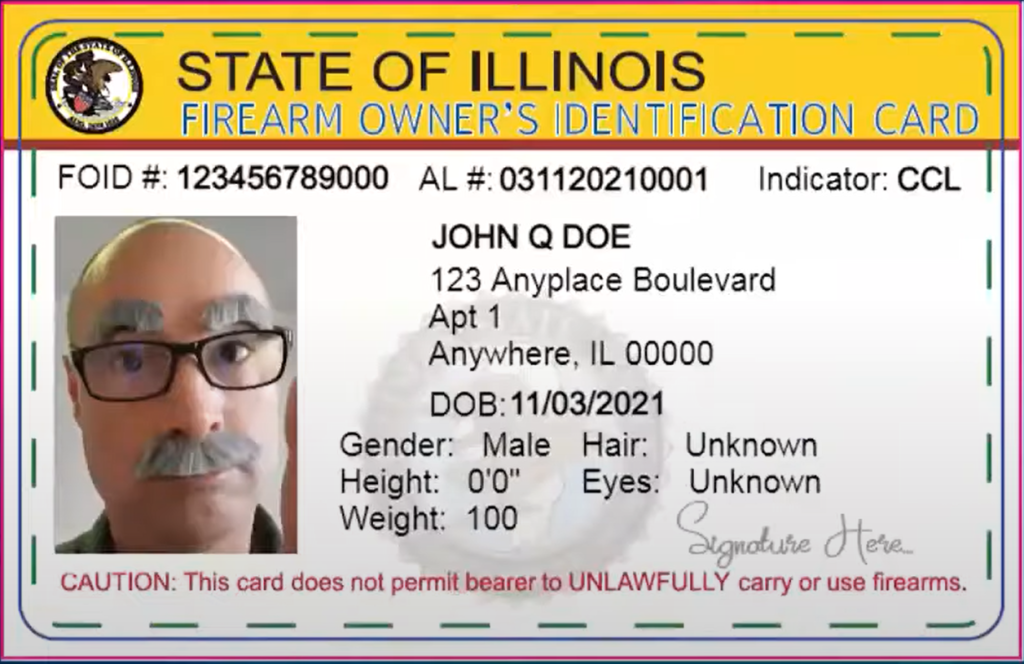 What's the Problem With the new FOID?
If you examine this new combined FOID and Concealed Carry License, you'll notice it is conflicting. Remember, this is a combined card. This particular new FOID card actually allows the bearer to carry a concealed firearm in Illinois. In the upper right-hand corner of the card, it states "Indicator: CCL" But wait! It also clearly states in big red bold letters, "the card does not permit the bearer to UNLAWFULLY carry or use firearms."
It is understandable what the ISP was trying to accomplish. One can't "unlawfully" carry firearms. That means if your card doesn't indicate "CCL" you're probably carrying your firearm unlawfully. With proper training, law enforcement will understand this secret code. What's the likelihood that a police officer in another state will understand this secret code? Just as there have been arrests for Illinois residents carrying concealed in other states with concealed carry licenses indicating "expired", I predict there too shall be arrests for carrying firearms in other states with the new combined FOID/CCL.
Don't Drown in Muddy Waters
There is a solution to this problem of vague ambiguity. We are suggesting to our students to apply for a Florida concealed weapons permit and/or Arizona concealed weapons permit. The Florida and Arizona concealed weapons permits are accepted in dozens of states and do not have conflicting markings upon their cards. Carrying one or both of these non-resident permits might just keep you out of trouble with law enforcement in another state. You've got to expect the law enforcement officer to handle the situation at face value and be prepared for it. Of course, if you never leave Illinois this is a non-issue.
Due to our instructor credentials, the 16 hour concealed carry class, offered by Alpha Koncepts, allows the student to apply for the Illinois, Florida, and Arizona concealed carry licenses. That's like 3 classes in one. In addition, our 8 hour Alpha Pistol Basics allows the student to apply for Florida or Arizona concealed weapons permits.
Suggestion to the ISP
Instead of "indicator: CCL", why not change what the bottom red line reads based upon the status of the person's license. Instead of CCL, which out of state law enforcement may not understand, change the bottom line for those who are licensed to carry, to read: "This card does permit the carrier to carry a concealed firearm in accordance with Illinois law."? For clarity of my suggestion… The bottom line can be changed just as easily as the top line, based upon the person's status, and would prevent problems while interacting with law enforcement.