The only thing certain in this uncertain world is that bad things happen to good people. This is why concealed carry is so important.
Since 2013, Alpha Koncepts has been training people to safely and legally carry a concealed firearm for their own self protection. Come join our thousands of satisfied Alpha Koncepts students, get your concealed carry license and learn to protect yourself with a firearm.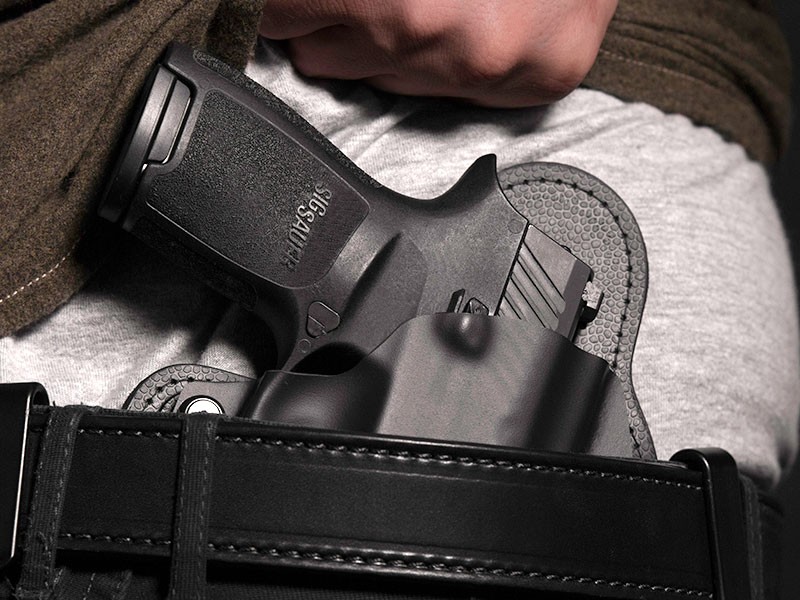 Deeply Discounted Early Bird Registrations. Discounts are limited so Sign Up Now.
Discounts on all future classes for past students. Save hundreds of dollars in your lifetime.
This class qualifies for not only Illinois but Florida and Arizona concealed carry licenses as well. That's almost like 3 classes for the price of one!
Carry in 35 states instead of 25 with the Illinois and Florida licenses.*
Receive a free 100+ page manual which contains all the information covered in class. That's a $47 value, absolutely free.
Receive merchandise from our partners including pens, informational booklets, coupons, stickers and free samples.**
All the free coffee and all the free water that you can drink during this Illinois concealed carry class.
---
Took my original CCL training with Thomas back in 2014 and my CCL renewal in 2019. Clear and concise presentation that is delivered in a way that holds your attention.

Joe O
What a class. The instructor was the best instructor motivator and demonstrator. The class was 16 hours of information. At the gun range I had a chance to check out other instructors from other companies. So I got to compare. I am so lucky and happy I chose Alpha Koncepts and there is no where else I will go for additional training

Jerry W
Amazing staff! Amazing basic self defense training! Great education and information about handling a handgun, and above all they have a great concealed carry instructor. I'm happy I took a concealed carry permit with Alpha Koncepts

Alan V
Topics of discussion during classes include…
Firearm safety rules.
Storage of a firearm.
Shooting basics including stance, grip, sight picture, sight alignment, trigger control, breath control, eye dominance etc…
Care, cleaning and identification of a firearm and ammunition.
Selecting a firearm based on use, fit, and features.
State laws as they pertain to firearm transportation, buying and selling, and most importantly justifiable use of force.
Illinois concealed carry laws as they pertain to carrying of a concealed firearm, officer interaction while carrying, and where you may not carry.
Etiquette while carrying of a concealed firearm.
Mental Preparedness and proper mindset for concealed carry.
Aftermath after an incident requiring justified use of force.
Additional resources to learn and grow in the the concealed lifestyle.
Frequent Concealed Carry Class Questions…
Do I need my own gun for the Illinois concealed carry licensing class?
No. While some instructors will require students to have their own gun to take the class, Alpha Koncepts understands many students are new to the gun world. Therefore we include a segment in our class about how to purchase the right gun for you and will gladly rent handguns to our students to use for class.
Do I need a FOID card before taking the Illinois concealed carry training class?
No. While some instructors do require students have a FOID card to take the Illinois Concealed Carry Licensing class, Alpha Koncepts will allow students to attend without a FOID card. In fact if you do not already have a FOID card, we recommend you apply for one at the same time as your concealed carry license, but not sooner. We shall discuss how to apply in class.
Are there any other fees?
Range fees may be additional. Check the individual calendar listing to be sure! Your state application fee(s) are not included. These fees are paid directly to the state. Finger prints are optional for the Illinois concealed carry license application and therefore are not included. Most students do not get finger printed for the Illinois license. Students will be required to provide ammunition and firearms, or may also rent them.
Where can I have my fingerprints done for the Illinois Concealed Carry license?
Finger prints are optional and not a requirement of the Illinois Concealed Carry License, but are for Florida and Arizona. However students may choose to have their finger prints taken for Illinois. This shall be discussed in class. More information can be read here. Are finger prints required for an Illinois Concealed Carry License?
I have a question before I sign up. Who can I ask?
Please contact the Alpha Koncepts staff with any questions. Use the contact form to  Contact Us or call/text 847-612-3952
About Your Concealed Carry Instructors
You can easily find hundreds of very positive reviews. These reviews all share a common theme. This theme will also be immediately apparent upon your first introduction. Passion. Passion is what sets Alpha Koncepts apart from all other concealed carry training schools. All of Alpha Koncepts certified instructors are first and foremost passionate about the subject of teaching people to safely and legally protect themselves and protect the people they love. We know you are trusting us and we take that level of trust incredibly serious. When you've taken a class with Alpha Koncepts, you've become part of the family. You're now a part of our pack.
Thomas Kral is the founder of Alpha Koncepts, and one of the first concealed carry instructors in the state of Illinois. He has trained thousands of students since 2013. Thomas has assisted in compliance training numerous other Illinois concealed carry instructors throughout the Chicagoland area. His firearm training credentials including being certified by the Illinois State Police, certified by the National Rifle Association for Pistol and Personal Protection, certified by the United States Concealed Carry Association for Defensive Shooting Fundamentals, Concealed Carry and Home Defense.
Upcoming Illinois Concealed Carry Classes…
Did you find your class? If not, additional classes, dates and time can be found on our event calendar.
---
*Reciprocity is subject to change.
** Merchandise varies subject to availability.