Concealed Carry Classes for your Illinois Concealed Carry License
The only thing certain in this uncertain world is that bad things happen to good people.
It's time to protect what you love. It's time to get your concealed carry license. In Illinois, that means attending a concealed carry class.
Alpha Koncepts has been offering concealed carry classes on weekdays and weekends since 2013. As one of the very first concealed carry schools in Illinois, we have thousands of satisfied customers and hundreds of 5-star reviews.
Why Choose Alpha Koncepts?
Flexible Schedule
Classes on Weekdays and on Weekends.
Deeply Discounted Pricing
We offer competitive Internet Exclusive Pricing.
Discounts on Future Classes
Our Students get 10% off all future classes FOR LIFE!
Multi-State Class
Our class allows you to Apply for Illinois, Florida, or Arizona Concealed Carry Licenses.
Thousands of Satisfied Students
As one of the first concealed carry schools in Illinois, we have thousands of satisfied students. If you read our hundreds of 5-star reviews you'll begin to see a common theme. Check out what some of our students have to say!
Took my original CCL training with Thomas back in 2014 and my CCL renewal in 2019. Clear and concise presentation that is delivered in a way that holds your attention.

Joe O.
What a class. The instructor was the best instructor motivator and demonstrator. The class was 16 hours of information. At the gun range I had a chance to check out other instructors from other companies. So I got to compare. I am so lucky and happy I chose Alpha Koncepts and there is no where else I will go for additional training

Jerry W.
Amazing staff! Amazing basic self defense training! Great education and information about handling a handgun, and above all they have a great concealed carry instructor. I'm happy I took a concealed carry permit with Alpha Koncepts

Alan V.
What You'll Learn
Our classes are designed so that no matter what your skill level, you'll learn a ton! We've had students who haven't shot before, all the way up to veterans with combat experience attend our concealed carry classes. Some of the topics we will discuss include…
How to Operate a Handgun
You'll learn how to operate multiple types of handguns.
Firearm Safety
We have a strong emphasis on firearm safety in all of our classes.
Selecting the Right Concealed Carry Pistol
With so many choices, we explain exactly how to choose the right gun for you!
All Legal Considerations
We will discuss the law of ownership and the use of a firearm.
Do I need my own gun for the Illinois concealed carry licensing class?
No. While some instructors will require students to have their own gun to take the class, Alpha Koncepts understands many students are new to the gun world. Therefore we include a segment in our class about how to purchase the right gun for you and will gladly rent handguns to our students to use for class.
Do I need a FOID card before taking the Illinois concealed carry training class?
No. While some instructors do require students have a FOID card to take the Illinois Concealed Carry Licensing class, Alpha Koncepts will allow students to attend without a FOID card. In fact if you do not already have a FOID card, we recommend you apply for one at the same time as your concealed carry license, but not sooner. We shall discuss how to apply for a FOID during class.
Where can I find class dates and locations?
Class dates can be found on the Alpha Koncepts calendar or you may contact us to speak to one of the staff.
Are there any other fees?
Range fees may be additional, though we occasionally run promotions. Check the individual calendar listing to be sure! Your state application fee(s) are not included. These fees are paid directly to the state. Fingerprints are optional for the Illinois concealed carry license application and therefore are not included. Most students do not get fingerprinted for the Illinois license. Students will be required to provide ammunition and firearms, or may also rent them.
Where can I have my fingerprints done for the Illinois Concealed Carry license?
Fingerprints are optional and not a requirement of the Illinois Concealed Carry License. However, fingerprints are required for Florida and Arizona concealed weapon permits. Students may choose to have their fingerprints taken for the Illinois license. This shall be discussed in class. More information can be read here: Are fingerprints required for an Illinois Concealed Carry License?
I have a question before I sign up. Who can I ask?
Please contact the Alpha Koncepts staff with any questions. Use the contact form to Contact Us or call/text 847-612-3952
Which Shooting Range Do You Use?
After 10 years in the business, we have relationships with nearly every shooting range in the Chicagoland area. However, the two ranges we use the most for our concealed carry classes include Maxon's Shooters in Des Plaines as well as Article II in Lombard. We will discuss the range location on the first day of class.
I am new to guns. Can I still attend class?
Yes! Our classes are designed for shooters of every skill level and approximately half of our students haven't shot a gun before. Using our crawl, walk, run teaching methodology, you will finish class as a capable and confident shooter!
Can I purchase ammunition from you?
Our credit card processing companies prevent us from selling ammunition. However, you may purchase ammunition from your instructor directly (person-to-person transfer), but cash is required for ammunition sales. All ammunition purchasers must have a valid and current FOID. If you do not have a FOID, you may rent a firearm from us with free ammunition included.
How much ammunition do I need for class?
The Illinois concealed carry qualification consists of 30 rounds fired. For that reason, we usually suggest students bring two boxes or 100 rounds of ammunition. A box of ammunition usually consists of 50 rounds, and in the off-chance, a student needs to retake their qualification, 50 rounds won't be enough to shoot twice, so bring two boxes just in case.
Are there tests for the Concealed Carry Class?
While some instructors may require a written test, the law does not require it therefore we do not require a written test. However, there is a shooting test that consists of a total of 30 rounds fired at a man-sized target (B27).
10 rounds fired from a distance of 15′.
10 rounds fired from a distance of 21′.
10 rounds fired from a distance of 30′.
Students need a minimum score of 21 hits to pass.
Also, students who, in the sole discretion of the instructor, pose a danger to themselves or others will be immediately asked to leave class.
Do you offer discounts for concealed carry classes?
Yes, we offer multiple discounts. The first 5 people to sign up for our weekend concealed carry classes will receive an automatic "early bird" discount. We also offer military and veteran discounts, and we offer discounts for police spouses. In addition, we offer seasonal promotions and coupons as well. Check out our Coupon page for additional details.
Where can I carry with my Illinois Concealed Carry License?
You will be able to carry a firearm in most public places in Illinois plus 28 additional states. The Alpha Koncepts class allows you to apply for the Florida or Arizona licenses as well, which will add approximately 5 additional states. Reciprocity and recognition sometimes change. We will discuss gun free zones, as well as additional states, and all of these details in class.
How log is the Illinois Concealed Carry license valid?
The Illinois Concealed Carry License is valid for 5 years from date of issuance. To renew the license a licensee will be required to attend a 3-hour renewal class and pass the same shooting qualification. Learn more about Concealed Carry Renewal Classes.
Get Discounted Internet Exclusive Pricing. Sign up for a concealed carry class.
We have a comfortable classroom space which is accommodating of everyone. Our classroom size is small on purpose so that we can ensure each student receives the attention they deserve to become a more confident and capable shooter. Our concealed carry instructors are passionate about the subject and enjoy sharing their experience and knowledge with each student.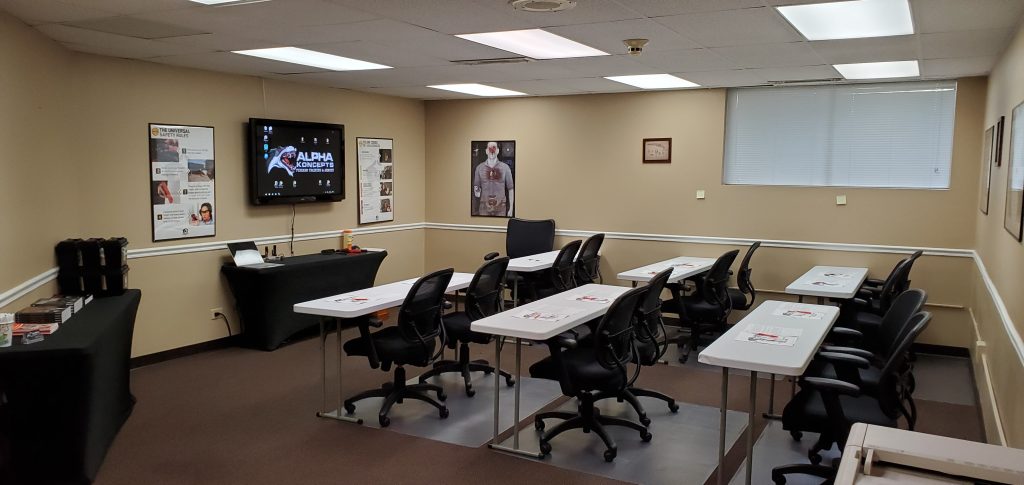 Not all concealed carry classes are created equal. The most important thing we can teach you is how to avoid having to use self defense in the first place. For this reason we discuss mental preparedness, explain how to avoid a confrontation and how to deescalate if you ever find yourself in a violent encounter. We arm you with knowledge of less-lethal self defense options and teach you all about awareness.
About Your Instructors…
You can easily find hundreds of very positive reviews about our concealed carry classes. These reviews all share a common theme. This theme will also be immediately apparent upon your first introduction. Passion. Passion is what sets Alpha Koncepts apart from all other concealed carry training schools. All of the Alpha Koncepts certified instructors are first and foremost passionate about the subject of teaching people to safely and legally protect themselves and protect the people they love. We know you are trusting us and we take that level of trust incredibly seriously. When you've taken a class with Alpha Koncepts, you've become part of the family. You're now a part of our pack!
Thomas Kral is the founder of Alpha Koncepts, and one of the first concealed carry instructors in the state of Illinois. He has trained thousands of students since 2013. Thomas has assisted in compliance training numerous other Illinois concealed carry instructors throughout the Chicagoland area. His firearm training credentials including being certified by the Illinois State Police, certified by the National Rifle Association for Pistol and Personal Protection, certified by the United States Concealed Carry Association for Defensive Shooting Fundamentals, Concealed Carry and Home Defense.
Some Facts about Concealed Carry in Illinois..
Your Illinois Concealed Carry License will allow you to carry a firearm in approximately 33 states.
There are currently over 350,000 concealed carry licenses issued in Illinois.
Illinois was the last state to legalize carrying a firearm, and only because the Federal Courts demanded it.
More About Our Concealed Carry Classes…
Firearm safety rules.
Storage of a firearm.
Shooting basics including stance, grip, sight picture, sight alignment, trigger control, breath control, eye dominance etc…
Care, cleaning and identification of a firearm and ammunition.
Selecting a firearm based on use, fit, and features.
State laws as they pertain to firearm transportation, buying and selling, and most importantly justifiable use of force.
Illinois concealed carry laws as they pertain to carrying of a concealed firearm, officer interaction while carrying, and where you may not carry.
Etiquette while carrying of a concealed firearm.
Mental Preparedness and proper mindset for concealed carry.
Aftermath after an incident requiring justified use of force.
Additional resources to learn and grow in the the concealed lifestyle.
To Get Started, Choose Your Date…
We're here to help. Ask your questions. We've got answers!