Last updated on August 11th, 2023
As with all things firearm related, especially in Illinois, remaining "law-abiding" is like tip-toeing through a minefield. Consider this document to be your road map on how to build or buy a Short Barrel Rifle in Illinois. There are quite a few articles similar to this one, about how to buy or build an SBR in Illinois, but many are outdated since there have been numerous changes in the process over the last 9 years. I'll start at the beginning and then walk you through the whole process step by step to buy or build a short barrel rifle in Illinois.
What is a SBR?
SBR means short barrel rifle, and until 2013 SBR's were illegal in Illinois. The ATF simply defines a SBR as a rifle having a barrel of less than 16″ in length. That's why nearly all commercial rifles are 16.5″ or longer in barrel length. Illinois defines a short barrel rifle as a rifle having a barrel less than 16″ and an overall length less than 26″.
SBR's are popular because they are lightweight, easy to carry, and easy to maneuver around confined spaces like vehicles or in close quarters, such as home defense. We know that chopping down a barrel very often will reduce the effective range of the ammunition, but a 5.56 SBR with 11.5″ barrel is still effective into the hundreds of yards. However, SBR's have been heavily regulated by the federal government since 1934 and banned by the Illinois government until 2013 with the passage of PA 097-0936.
What does Illinois have to say about SBR's?
(720 ILCS 5/24-1) (from Ch. 38, par. 24-1)
Sec. 24-1. Unlawful use of weapons.
(a) A person commits the offense of unlawful use of weapons when he knowingly:
(7) Sells, manufactures, purchases, possesses or carries:
(ii) any rifle having one or more barrels less than 16 inches in length or a shotgun having one or more barrels less than 18 inches in length or any weapon made from a rifle or shotgun, whether by alteration, modification, or otherwise, if such a weapon as modified has an overall length of less than 26 inches;
However, Illinois law goes on to say (effective Jan 1st, 2013 with the passage of Public Act 97-0936)…
(c) Subsection 24-1(a)(7) does not apply to or affect any of the following:
(7) A person possessing a rifle with a barrel or barrels less than 16 inches in length if: (A) the person has been issued a Curios and Relics license from the U.S. Bureau of Alcohol, Tobacco, Firearms and Explosives; or (B) the person is an active member of a bona fide, nationally recognized military re-enacting group and the modification is required and necessary to accurately portray the weapon for historical re-enactment purposes; the re-enactor is in possession of a valid and current re-enacting group membership credential; and the overall length of the weapon as modified is not less than 26 inches.

https://www.ilga.gov/legislation/ilcs/ilcs4.asp?ActID=1876&ChapterID=53&SeqStart=68200000&SeqEnd=71300000
As we see, Illinois adds one additional hurdle that the ATF doesn't require: obtaining a Federal Curio & Relic license or joining a reenactment group. Most of the people I know who have bought or built SBR's opt for the C&R route. The Curio & Relic license is a Federal Firearm License (FFL) similar to a gun store but of a much lower classification. The C&R is for collecting, not for dealing. To Obtain a Curio & Relic license from the federal government, one must complete the ATF F 5310.12/5310.16 (Form 7/7CR).
Step by step to apply for a C&R.
Requirements for a C&R: The applicant must be 21 years or older and a legal resident of the US with no felonies, drug additions, or restraining orders. More information is located here: https://www.atf.gov/firearms/instructions-form-77cr-application-federal-firearms-license
Download the 7cr (PDF) from the ATF website. https://www.atf.gov/firearms/docs/form/form-7-7-cr-application-federal-firearms-license-atf-form-531012531016/download
Be sure to mark collector for questions 1 and 10.
The answer to question 9 likely could be, "collector of curio and relics".
Be sure to thoroughly read the instructions as not all questions are required for a C&R license. For example, a photograph and fingerprints are not required for a C&R license.
Mail one completed copy of the 7cr with a payment. The address is on the application. Also, you should ship with tracking so you know that the prints have been received. A signature requirement might also be a good idea.
Mail or deliver one copy of the 7cr to your chief law enforcement officer. This is typically your chief of police or county sheriff.
According to the ATF, they will approve or deny your application within 60 days
More info about bona fide, nationally recognized military re-enacting groups.
If you choose to go the reenactor route, I recall that the ISRA claimed to meet the requirements. However, if you choose to go the Reenacter route there are more restrictions on what SBR's you may own. If you are going to join a reenactment group, you'll want to join the most modern group you can find so you aren't limited to short barrel muskets.
Possible Bonafide Reenactment Groups:
(please verify with the group before Joining)
Illinois State Rifle Association
1st Marine Division, Korean war enactors
What do the Feds say about SBRs?
After obtaining your C&R license, you can begin the federal process to buy or build an SBR. You'll need to fill out the ATF Form 1 if you are building, and pay a $200 "tax stamp". If you are buying a completed SBR the dealer may assist you with completing the ATF form 4. By all accounts form 4's are taking significantly longer to approve than form 1's. If you've got the technical know-how, it may be beneficial for you to build your SBR, rather than buy a completed SBR. Many people buy a "pistol" that can be easily converted to an SBR and then complete the SBR conversion after the ATF approves their form 1.
How to Complete an ATF Form 1.
Completing a Form 1 is simple but lengthy at the same time. Here is what you need to do to complete your Form 1 to obtain an SBR in Illinois…
Go to https://www.atfonline.gov/EForms/ and click the log in button.
Click Register, assuming you don't already have an account. If you do already have an account, then simply log in.
The ATF will email you your username.
Log in.
Once you login select Form 1.
Select, Application Type: Individual
Get a passport-style photo (guidelines below), a digital photo is ok. Photos are to be uploaded under the responsible person tab.
Fingerprints are required and must be sent by mail, not electronically. More info about fingerprints is contained later in this article. You'll receive a cover letter once you complete the eForm 1.
You'll upload your photo as part of the Responsible Person tab.
Upload your FOID and C&R as part of the Electronic Documents tab.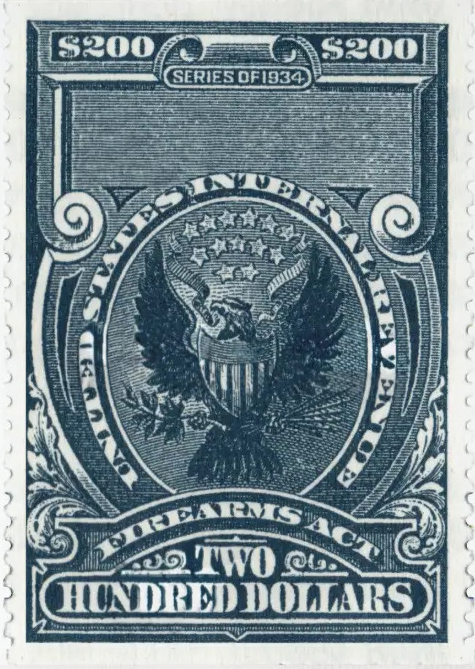 Form 1's are taking approximately 60 days to process at the time of this writing. As we know with the government, these times can and do vary. You may check processing times here: https://www.atf.gov/resource-center/current-processing-times
Passport Photo Guidelines.
The ATF follows the state department passport photo guidelines…
A color photo that was taken within the last 6 months.
Head and shoulders photo.
A clear image of your face without using any filters or photo editing.
Remove glasses and hats. If you are unable to remove hats or glasses for medical reasons, you may need a signed note from your doctor.
Light color background, white preferred.
Have someone else take your photo. No selfies. There are many locations that will process passport photos for you, including Walgreens.
Photo size 2″x2″. You may need to crop and resize your photo.
More info about passport-style photos for your SBR, from the US Department of State: https://travel.state.gov/content/travel/en/passports/how-apply/photos.html
SOT Dealers in Illinois.
A class 2 or 3 SOT dealer is one who can deal in NFA items such as suppressors and SBR's. A class 3 dealer is not to be confused with an 03 FFL (C&R). The SOT is what is known as a Special Operational Tax (SOT). I know it is confusing, but remember that minefield reference I made earlier. There are class 2 and 3 SOT dealers in Illinois, and if you are going to buy, instead of build, an SBR these are the people you might wish to contact:
North Shore Sports Club – Lake Forest, IL
BAT Arms – Plano, IL
Imperial Arms – Plainfield, IL
Rss Defense – Wauconda, IL
Engraving SBR Requirements.
The ATF requires that all Form 1 short-barreled rifles be engraved with the manufacturer's name, city, and state. If you are building your own SBR, you are the manufacturer. Your Name, city, and state may be engraved anywhere on the receiver but the font can not be less than 1/16″ in height with a minimum depth of .003″. The text must be visible without the disassembly of the firearm.
There are a few licensed manufacturers who may engrave your SBR receivers:
BAT Arms – Plano, IL
LAW Weapons – Naperville, IL
Krios Engraving – Geneseo, IL
Fingerprints for SBR's.
Fingerprints must be provided on FBI Form FD-258 Fingerprint Cards. These cards are available for free from the ATF or on Amazon for a small fee. You'll need to provide two sets of prints, which means you need two cards. You can roll your own fingerprints if you know how (buy a kit), or contact a law enforcement agency that may do it for a nominal fee.
Fingerprints are sent by mail to:
BUREAU OF ALCOHOL, TOBACCO, FIREARMS AND EXPLOSIVES
NATIONAL FIREARMS ACT DIVISION
244 NEEDY ROAD
MARTINSBURG, WV 25405
Fingerprints must be sent within 10 days of completing your eForm 1. It is recommended you get printed before completing your application. Also, it is recommended you ship with tracking so you know that the prints have been received. A signature requirement might also be a good idea.
Some tips on completing the fingerprint cards.
Cards must be completed to meet both ATF and FBI requirements (guidelines linked below).
Use the correct cards. The cards must be FD-258. These cards are available from the ATF or on Amazon.
The following fields are REQUIRED: Name, Signature of Person Fingerprinted, Residence of Person Fingerprinted, Date, Signature of Official Taking Fingerprints, Reason Fingerprinted, Aliases, Citizenship, Social Security Number, ORI, Sex, Race, Height, Weight, Eye Color, Hair Color, Date of Birth, & Place of Birth.
ORI should READ:
WVATF0800
ATF-NATL TRA CTR
MARTINSBURG, WV.
The date and birthdate formats are MM/DD/YYYY. January 13th, 1900 would read: 01/12/1900
If you are doing your own prints, place your name in the "Signature of Official Taking Prints". If someone else is taking your prints, their name goes here.
Reason Fingerprinted could be "ATF Form 1" or "ATF Form 4".
See the FBI guidelines below for gender, race, eye color, and hand hair color information.
Height is entered as a 3-digit number without the ' or ". For example 5′ 11″ would read 511. 4' 2" would read 402.
Place of Birth would simply be your state of birth for example if you were born in Chicago, Illinois the answer is simply: Illinois. If you weren't born in the US, enter your country of birth.
If you will have a police department take your prints, phone first as not all departments will provide this service. If you are going to take your own prints, you'll need the proper ink. If you're going to take your own prints and haven't before, perhaps practice a bit on scratch paper before trying on the official fingerprint cards.
You do not need to provide fingerprints as part of your CLEO notification (see below).
FBI Fingerprint guidelines: https://ucr.fbi.gov/fingerprints_biometrics/guidelines-for-preparation-of-fingerprint-cards-and-association-criminal-history-information
ATF FFingerprintguidelines: https://www.atf.gov/firearms/docs/form/fingerprint-card-instructions-and-example-fd-258
Notifying Law Enforcement
Applying for an SBR requires notifying the chief law enforcement officer. At one time applying for an SBR required approval from the chief law enforcement officer (CLEO), but that is no longer the case. The ATF now simply requires notifying the CLEO. Once completing the E-form 1, simply print and send a copy to your local chief of police or sheriff. This could be done by email, mail, or delivery in person. You do not need to provide fingerprint copies or payment information with your CLEO notification.
What about Gun Trusts?
One who has done some research about SBRs may have come across the term "gun trust". It is important to note that for purposes of SBR's in Illinois, Illinois does not allow Gun Trusts. A trust has proven beneficial in other states for ownership and ease of transfer or inheritance of NFA Items. But, again, Illinois doesn't allow "gun Trusts". The reason for disallowing gun trusts is that a Trust can not possess a Firearm Owner Identification Card, and because a C&R is one of the exemptions to owning an SBR, Trusts also can't have C&R licenses.
What's the Catch?
There are some drawbacks to all of this paperwork. The $30 C&R license, the $200 tax stamp, and requiring permission from the ATF before moving a firearm across state lines.
If you are crossing state lines with the SBR, you first need permission from the ATF by completing form 5320.20.
If you get a C&R license, then you are required to keep a bound book for all of your C&R eligible acquisitions and dispositions (purchases and sales/transfers).
If you get a C&R the ATF could request to audit your bound book at any time.
Alternatives to SBRs
If the song and dance seem like too much for you, there are alternatives to SBR's. Pistol variants may be right for you. Many rifles have little brothers which may be legally classified as a pistol, not a rifle. If the firearm looks like a short barrel rifle without a buttstock, it might be a pistol. If it has what looks like a funny buttstock, it might be a stabilizing brace, and therefore might be a pistol.
AR15 pistols and AK47 pistol variants are not nearly as regulated as Short Barrel Rifles, although the ATF is currently in the process of reclassifying some pistol braces as buttstocks. Also read: The AR15 Pistol in Chicago.
SBR How To in Illinois, The Short Version (TLDR)…
The step by step process how you can build or buy a SBR in Illinois. More details are above.
Apply for your C&R license or join a reenactment group.

Pick which option makes the most sense. Illinois requires you either obtain a C&R license or join a reenactment group.

Decide if you wish to build or buy.

Buying a completed SBR is easier than building but often takes longer to get ATF approval.

If you are building, shop for pistol variants that can later be converted to an SBR.

The easiest way to build a SBR is to buy a pistol variant and later convert it to a SBR after your stamp is approved.

Get fingerprints. You'll need them for the eForm 1 or Form 4.

Fingerprints are required for a SBR and must be done on the old school FBI fingerprints cards.

If you wish to build, apply for an SBR with the eForm 1. If you wish to buy the dealer will assist you with the eForm 4.

You may complete the E-form on paper or electronically if you are building. If you are buying, the dealer will usually assist you with this step using the form 4.

Notify the CLEO after completing the eForm 1.

The ATF requires you notify you chief law enforcement officer. Simply send a copy of your application to your local police chief.

Wait.

The wait time could be 2-4 months, or longer depending on the ATF backlog.

If you wish to build, you will need to engrave your receiver.

Engrave with your name, city, and state. Make sure the engraving complies with ATF requirements. While Waiting, have your receiver engraved with your full name, city and state.

Convert your firearm once your stamp is approved.

If you are building your SBR, do not convert the SBR until the tax stamp is approved or you will be illegally in possession.
Some images on this page have been provided courtesy of Daniel Defense and Bravo Company Manufacturing.